BIG WEST CORPORATION (BWC) is a $12M Real Estate Development Corporation with vast interest in planned Community Development Programs; Land Development and Planned-Development projects including hundreds of residential home sites in Southern California, a handful of vacation-resort home sites in Northern California and Oregon. The majority of the company's real estate holdings unencumbered with current valuation exceeding $10M[1]. Our current Secured Receivables balance of $2.76M[2] provides consistent revenue and stability. Our equities have proven consistent growth since business operations began in San Jose in the spring of 1984.
Our corporation primary concentration is marketing improved and unimproved residential home sites, estate homesites, unimproved large acreage, income properties, commercial sites and planned development projects, utilizing proven[3] marketing and selling strategies.
BWC has positioned itself to become the lead community developer owning with clear title, significantly whole and/or majority ownership to six land-development projects ready for entitlement and forward planning of each planned-development project along with several other premium spot lots ready for construction of single family, multi-family, industrial and commercial projects in California City and the Antelope Valley.
BIG WEST HOMES[4] has committed to build 140 new housing units over a three-year period. The Parent Corporation has the ability to contribute the land and collateral, as necessary to obtain millions in funding called for to complete the Building Program proposed. BIG WEST CORP. has the hist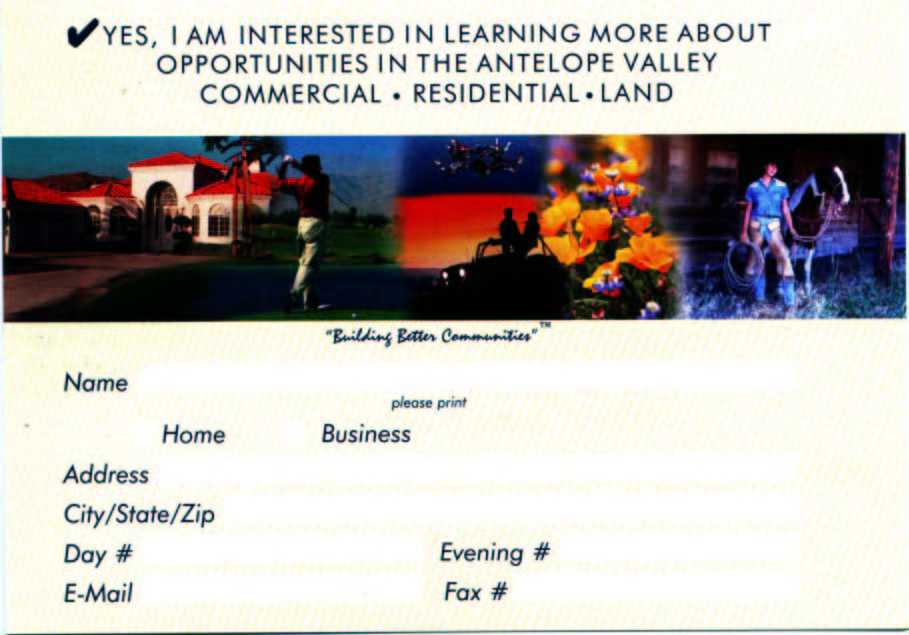 orical position as a Community Developer, is positioning NOW to submit FUNDING proposals according to Institutional lenders criteria including 1) a deep track record in Production housing and 2) Auditable Financials from BWC and a sponsoring major builder[5] or other source.
Thus, BIG WEST CORP. has compiled sufficient bids and quality control decisions from strategic and local trades to position naturally with BIG WEST HOMES, LLC in the immediate future. Our crew has established itself in the community and LAUNCHED our Building Program effectively Y2007.
Our secondary concentration will be balanced between future Design to Build construction services as well as penetration into mortgage services and various land development trades; heavy equipment-grading operations[6].
Now, in Second half of Y2007, we continue our expansion in Southern California by improving our equity position with clear title, significantly whole and/or minority ownership to land-development projects ready for planned-development in California City and Kern County. In our 5-year plan we will be testing our operations into various other communities, including Inland Empire, Lake Shastina, California Pines Resort and Illinois Valley (Oregon).
Our LAND DIVISION, PRODUCTION HOUSING DIVISION and PLANNED-DEVELOPMENT projects will bring great yield to our stockholders. Also, designing and building commercial and residential projects provide a real estate product, which is in demand[7]. Our customized new home quality is unparalleled in the Antelope Valley and can be viewed in three showcase models in East Kern County. We have expanded our market presence beyond our historical presence in Kern County. Utilizing our panelized wall system, a few years back, we tested one project already in the Inland Empire. In our future, we will sponsor traditional stick built, panelized wall systems and manufactured showcase models in various planned development projects. Our vision to meet or exceed standards of other neighborhoods lends itself to our trademark, "Where Custom is our Standard and Excellence is our Quality".
BWC greatest assets are the quality of its leadership and the vision and proven integrity of its Officers, managers, advisors and staff. Our leadership's advisors have served a combined 200 years in Real Estate. The company has completed research, substantial land acquisitions and design-construction of several innovative floorplans. Upon securing $1M to $3M loan and/or responsible institutional line of credit[8], we are committed to advance a $30M - $50M building program in California City in the immediate future.
Presently, our company is positioned to use a mass-marketing and media mix strategies in reaching millions of households advertising projects now available in East Kern County and California City. We envision building our sales team up to 12 territorial sales positions marketing vacant land-future and future home-sites. We're forecasting an average of $500,000 per month in closable sales monthly sales by the top salesperson and an average of two transactions per month for the remainder of our sales team[9]. We will also build a minimum of two qualified pre-sales of production models and custom designed homes per month in California City[10]. Our plan to introduce one new model showcase home per year into new markets[11] throughout Southern California. Our projections indicate sales revenue will reach $5 Million annually, while assets increase from $12M to $20 million[12].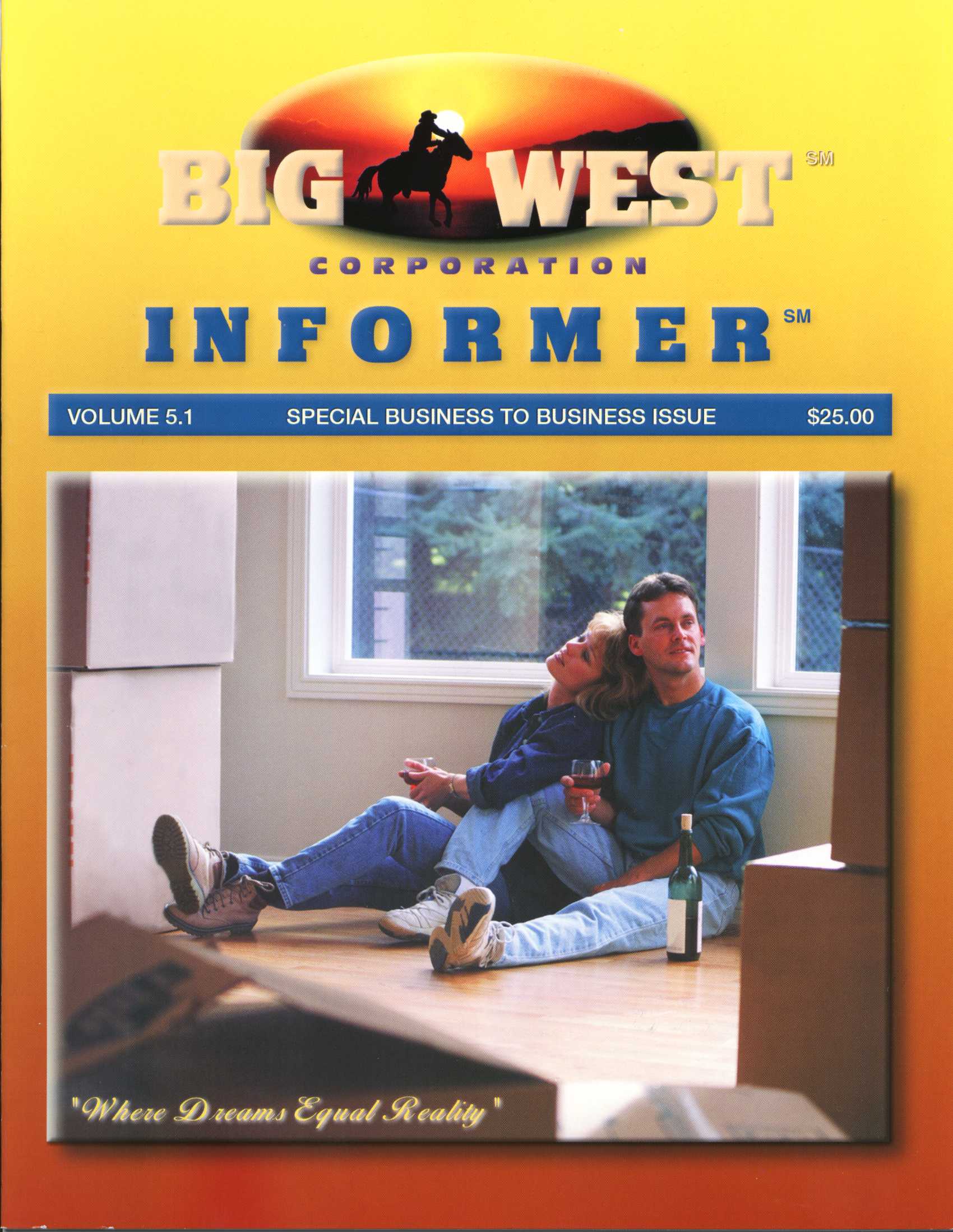 BIG WEST CORPORATION
(BWC) has a mission to "Build Better Communities"TM. With synergy in its organization structure, BWC has played a leading role as an active community developer in East Kern County and California City. Armed with a Community Development Program[13], BWC has called for millions of dollars in development loans to build three planned communities in California City and millions more to meet the 5-year expansion plans.
The primary ingredient to our Success is the administrative leadership and proven Business Operating System; creating, integrating and solving dynamic problems, using land research, business models, innovation and experience to guide our motion. Another key ingredient to our success is the character and confidence in our proven abilities. BWC has the willpower to fulfill commitments diligently, feeding our business systems divisional growth and financial stability since inception in 1984.
BIG WEST CORP. forecasts significant income growth opportunities in real estate development based on our exhaustive studies and key relationships in the following community areas:
California City, California
Benefiting From Vision
California City is located in Kern County seven miles northeast of Mojave. This expansive city can be reached from California 14, California 58 or U.S. 395. The forefathers of our 204 square mile city built an elaborate water system and public road system serving thousand of buildable lots. Today's our city is expanding with a nearly completed Sr. High School, a nearly complete Elementary School, nearly complete Microtel Inn, several retail stores and shopping centers in construction. From Ace Hardware, Sears ad Radio Shack to Subway, Guido's Pizzeria and Quizno's, many retailers are finding California City. Banks have expanded their presence here as well. From private money lenders to expanded institutional banking operations of Alta One Credit, Bank of the Sierra and Mojave Desert Bank, California City is fast becoming the destination for small builders, who are able to create markets for their new product. Hundreds of millions of dollars of project have been completed, funded and sold. Dozens of planned development projects are in the submission phases for tentative tract and final map processing. With new homes reaching record prices over the past several years, California City is one of the few last places in California where a custom home can be purchased for half the statewide average price. Critically, monthly mortgage payments are within range of most families budgets[14], which is a major determining factor for the revamped qualifying standards in the mortgage markets. According to WRA Engineering national builders would be very interested in California City as sustained record number of new homes would compete with Bakersfield, Rosamond and Tehachapi as a portion of the market share in Kern County. A few years back we added a new McDonald's, a new Rite Aid, a new Jr. High School, a new primary care center, a new airport terminal, a new Airport Industrial park, a new police station and a new sewer treatment system. Our existing city hall, public library, post-office, 80-acre park and lake compliment two 18-hole golf courses. The Championship Course - Tierra Del Sol and the Executive course is situated in the core of the community. This master planned community now has 26 churches, two excellent schools, industrial expansion and a fast growing population. California City, a City with a Country Life, has become a growth leader.
An American Heritage Right to Own
Before white settlers came in 1769, the Paiute Indians of Shoshonean speech traveled East Kern County from the hi-desert to the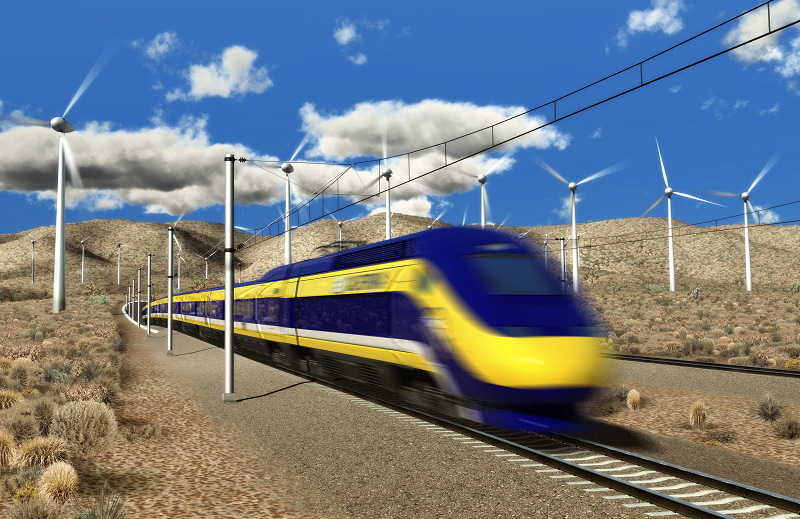 nearby Tehachapi Mountains gathering and hunting. To some the hi-desert Antelope-Valley remains an un-discovered territory of beauty and serenity. To many it is a new opportunity for peaceful quality living in an unspoiled community. Our property owners enjoy the country lifestyle; golfing, tennis, fishing, flying, camping, hiking, rock-climbing, hunting, panoramic sunsets and abundant open space in the nearby National Forests and Kern River Valley. To live in East Kern County is to live where families can ride motorcycles or horses in the open country near their homes.
Here Are The Facts
BWC owns more than 50 vacant parcels; including residential home sites, apartment sites, and commercial properties within the California City and the East Kern County communities. According to research studies, California job growth, income growth, consumer demand and sustained low interest rates[15] has helped the construction industry endure the sub-prime market debacle- continuing a sustainable demand for real estate products in our region. The State required[16] development of 300,000 acres of vacant land to construct 1.2 million homes in order to meet pent-up demand over the past eight years. Presently, the State requires 20,000 housing units annually to meet demand[17]. Current reports indicate this once remote hi-desert region commonly referred to as the Antelope Valley is a "hot housing market[18]" and "fast growing". The Antelope Valley, including California City is in prime position[19] for substantial industrial and residential growth. Southern California's growing population has extended deep into the Antelope Valley. Over the next 20 years, Southern California Association of Governments (SCAG) reports that 800,000 more people will live in the Antelope Valley in 254,000 new housing units[20]. "The population of Kern County[21] will triple by the year 2040." [22] Kern County is the states second fastest growing County. California City's smog-free, moderately comfortable[23] climate and quality lifestyle will attract thousands of residents to this community.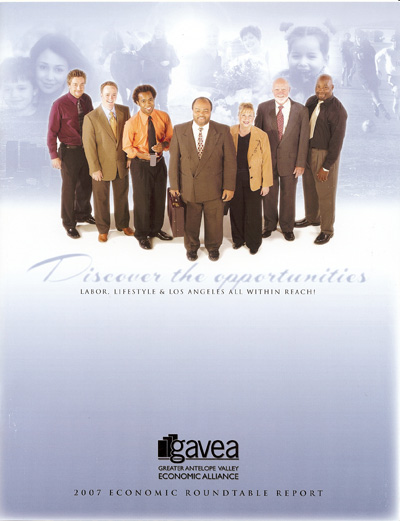 California City, located 51 miles north of Palmdale, California and only 15 miles north of Edwards Air Force Base, will have substantial, dramatic real estate growth potential over the next ten years. Recent studies prove this area's strong growth rate, as it is closely located next to Palmdale, once the "fourth fastest growing city in the nation". At 7.98% annual population growth since 1997, East Kern County leads the Antelope Valley in growth. Comparatively the Antelope Valley area is growing at 2.65% and Los Angeles County at 1.37%[24]. Between 1980 – 1990 population growth in California City was 121.17%, where the 2000 Census count is 10,296. U.S. Post Office estimated 1998 population in zip code 93505 at 12,000. Using the last 20 years as a guide, California City should grow by 40% to a population of 14,414 (within a 10 mile radius from Civic Center) demanding 1000 new housing units over the next five years[25]. In Y2007, 106 new housing permits have been issued January through May, according to a recent study published by Ticor Title. California City issued more building permits than the City of Bakersfield in both March and May of this year!
Growth and Progress
Corrections Corporation of America (CCA) has already completed the $100 million - 2,304-bed private California City Correction Center (CCCC) at Virginia Blvd. in California City. Plans have also been approved to expand another 512 beds. The Federal Government signed a $530 million contract to house inmates in California City[26]. As a result, the local area is benefiting from job growth[27]. Predictions are that 200 new housings units[28] will be needed in the area to absorb demand. Employment in March, 2003 is at 550 persons. According to CCA Business Plans, even more jobs will be created when the facilities expansion in California City is complete with as many as 5,000 beds.
Construction of the new four-lane $75M Freewayat Mojave (Bypass Loop) has been completed. Cal Trans is nearing completion of the $55M North Mojave Project and California City Blvd Interchange. Our research indicates that Industrial expansion is imminent along this transportation corridor. The community leaders view Hundai-Kia commitment[29] to build a $50 million Proving Grounds just south of the City as one example of a job provider and economic stimulant to the community. Ellison Plaza is nearing completion of a 63-room Microtel Inn. The city is also currently active in attracting business[30] to the Airport Industrial Park, a 50,000 square foot major supermarket and family restaurants
IKEA has already built a distribution center in Kern County at Tejon Ranch. Several other large scale industrial project are under contract for Tejon Ranch. Los Angeles County demands conversion of 20M square feet of Industrial land space annually. The County forecasts that the shortfall in supply will be in excess of 11M square feet of land annually over the next five years. Industrial expansion into the Antelope Valley and Kern County[31] is immanent. Our parent company has evolved our Community Development Programs to meet a fractional portion of this demand.
From Governor Gray Davis led a charge to bring the Joint Strike Fighter project to nearby Edwards Air Force Base and Plant 42. The increased activity at Edwards will create thousands of new jobs and billions into the regional economy[32].
BWC land projects are generally free and clear from encumbrances. Conditioned upon financing, BIG WEST HOMES is positioned to meet demand and produce hundreds of ready-to-build home-sites phased in several planned-development projects. The focus of our building programs will be located within 100 miles of the hottest housing market in the nation, The Los Angeles-Long Beach area[33].
Our first objective is to fund[34] and develop model showcase homes on existing improved properties[35] within strategically selected[36] planned communities. We have launched pre-construction phases of our community development, phased building programs with "North City Estates" and "Parkway Estates". Once our sales center opens, we will then continue with "Villa del Sol", "Desert Butte Ranch" and "Twin Butte Ranch Estates". Our initial commercial projects in land planning are "Sequoia Square" housing our very own Land Development Operations under the brand "Land Depot". Once completed, we will begin pre-construction phases of our "Freeway Center @ North Valley Ranch" and "Baron Commerce Center" in California City. We are also projecting future developments primarily along State Route 14 Industrial corridor to the south and west of California City. Subsequently, we will position in other areas of the Antelope Valley and Eastern Kern County, including Palmdale, Lancaster, Rosamond[37] and North Edwards[38].
---